Madison, WI Restoration Services
Available 24 Hours a Day, 7 Days a Week
When disaster strikes, you can count on Certi-Dry to be there. Our team will respond quickly and get to work right away to restore your property. 
We provide 24/7 emergency restoration services for residential and commercial properties. Our team of qualified property restoration professionals are here to help.
Certi-Dry specializes in water mitigation and aims to provide the best outcome in a negative situation. Call us today for water extraction, water damage cleanup, water damage restoration, drying and dehumidification, and water damage repairs.
Experiencing a fire in your home or business can be overwhelming. As a fire damage company, Certi-Dry can help with fire board up, fire damage cleanup, fire restoration services, and fire damage repairs to return your property to its pre-loss condition.
Mold growth can happen in any property when the right conditions are present, and, once established, it can spread fairly easily and can be difficult to remove. We follow stringent protocols to offer professional mold removal and mold remediation services that protect your health.
When your property has been damaged, repairs or reconstruction may be needed to restore the space to pre-loss condition. Our team handles the job from start to finish, including repairs or finishes. Trust only the best for your reconstruction project.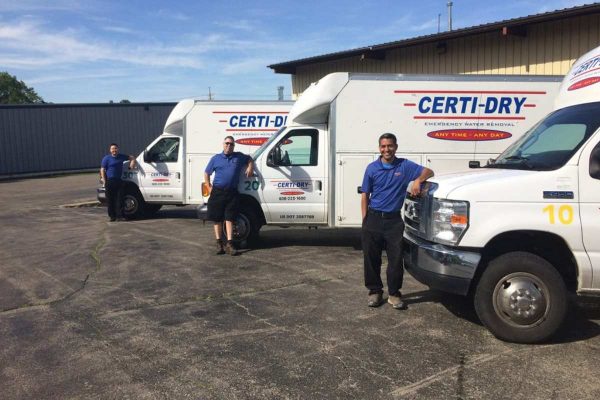 Madison WI Fire & Water Damage Restoration Services
Certi-Dry is a full-service property restoration company located in Madison, Wisconsin. We specialize in water damage, mold damage, and fire damage restoration. We are a team of hard working men and women who want to make your problem ours in order to ease the stress that may arise from one of these traumatic situations. We will come to your house or place of business and provide free estimates, and will work hand in hand with your insurance agent to make sure you are getting the best service possible. We are available 24 hours a day 7 days a week for your disaster emergency needs.
Why You Should Call Certi-Dry
Certi-Dry is your trusted, local disaster restoration services company. We employ only the best certified water and fire professionals, and are ready to respond, day or night. Certi-Dry performs 24/7 fire damage restoration, smoke damage cleaning, water damage restoration, water damage repairs, and mold removal. Our services are available in and around Madison, WI, Janesville, WI, Fitchburg, WI, Sun Prairie, WI, Stoughton, WI, Waunakee, WI, and Middleton, WI. Call us today for immediate help.
Disasters often occur at the worst and most inconvenient time. That's why Certi-Dry is available 24/7/365 for all of your restoration services needs.
When our technicians arrive on-site to conduct an inspection, we immediately begin formulating a restoration plan and accurate estimate that is unique to your circumstances.
Thanks to our extensive expertise in the restoration services industry, Certi-Dry is able to provide you with an accurate timeline for the project.
Our restoration services team is comprised of trained, certified technicians with relevant skillsets and experience in every aspect of restoration.
As a professional restoration company, Certi-Dry utilizes industry-leading equipment to ensure you receive the highest-quality results in the shortest amount of time.
Over the years, Certi-Dry has earned a reputation in Madison, WI, for helping property owners fix their property when disaster strikes. We are a friendly, local company that treats your home like our own.
What Our Clients Are Saying
We value our customers and appreciate their feedback. See what others have had to say about Certi-Dry.
"I am not one who normally leaves reviews, but these guys went above and beyond! I had these 2 guys painting my house outside (they are not professionals, they are morons) and they used the deep sink in my basement and forgot to turn the water off… on full blast… with rags blocking the drain … for 40 minutes! 95% of the basement was covered in 4 inches of water, and I was freaking out! I remembered Certi-dry from when a restaurant I worked at had a fire and they had come and cleaned up and everything, so I called them and could not have been more satisfied. They had a crew out to my house outside of Madison in under 30 minutes. They were real professional and got straight to work immediately taking pictures for the insurance company than began cleaning up everything and drying the basement out. It took the crew only about an hour to get all this done. They left fans and some other equipment so the basement could continue to dry and prevent mold from growing (something I hadn't considered). They were able to talk me through not only what exactly they did and why, but are proving to be an excellent help with insurance as well. If I ever run into an issue like this one again I won't hesitate to give them a call."
"We live in Reedsburg and when we came home from work on a Wednesday afternoon we discovered that during the day our sump pump failed. As a result of this we had about 2 inches of water covering our basement floor. We were able to get our pump running again but were left with a mess to clean up. We contacted our home owners insurance agent to see if they had any suggestions on where we could find someone to help. They recommended Certi-dry. We called them at 4:30 PM and by 7:00 PM they were at our house. Within minutes they were sucking up water and cleaning things up. Over the course of the next two days they cleaned and dried the basement . I would highly recommend Certi-dry to anyone requiring this type of service. Very professional people and very prompt. Did an excellent job in cleaning up our mess and following up to make sure were satisfied."
"We had a criminal break into one of our large commercial office buildings, started a fire and caused the sprinkler system to engage. It was a huge mess with water raining down on the tenant's equipment and server rooms. Called Certi-Dry and they were there within the hour. Crews kept arriving and mitigation began immediately. Core damage averted, thanks to their quick and effective response. Worked through the entire weekend to remove the moisture and restore the workplace. Except for one small room damaged by fire, Monday morning work for the tenants went off without a hitch. Thanks Certi-Dry for your professional and overwhelming response."
"We had our basement flood the day before Thanksgiving and Tyrone and his Team were quick to respond. The process began within hours of finding water in the basement and his entire team was respectful, considerate, and worked diligently to get the issue addressed and under control. We would highly recommend them in the future."
"I just wanted to send a quick thank you to everyone over at Certi-Dry who helped us get our basement in order. I know it's not the biggest job, nor the best basement, but it is ours… and we really appreciate the care and attention we got from the team! There were many more people, and we appreciate them all."
"Certi-dry responded quite quickly to my initial call (on a Saturday!) sending someone out that same day to set up fans and dehumidifiers, and then returning three more times over the next few days to check on progress, verify the extent of the damage, and pass along information and expertise re: further work and repairs. Everyone involved was friendly, responsive, and professional, and I would call them again for similar situations!"
"When we had an unexpected flood in our business, it was overwhelming to have to deal with, but one thing we didn't have to worry about for a minute, was the quality of work that Certi-Dry provided. They were on the job start to finish, coming in early or late depending on what our schedules could accommodate, and were very easy to communicate with throughout the process. We were able to continue to run our business seamlessly and they made that possible."
"Thanks to everyone for helping us clean up a gigantic mess!!"
"We had a washing machine overflow that flooded the main floor laundry and part of the basement. I called CertiDry and their response was immediate. The crew arrived shortly after our call and got rid of the standing water and started drying things out. The crew chief was extremely helpful and friendly. Always had a smile on his face. Thorough, quality job."